Excel Solar Cool Coat Heat Reflective Roof Coating 20L (White)
₹7,850.00 Incl. of all taxes (-1%)
Reflective + Nano Insulative Technology
Advanced Nano UV Protection
Micro Fiber Reinforced Waterproofing
Water Based, ECO-Friendly Green Certified
Reduced Energy Cost Upto 30%
.Low Cost Application & Maintenance
Note: For Bulk Order & Discount please Mail Us.
Compare
Excel Cool Coat Solar Heat Reflective Roof Coating –

From The Manufacturer
India's Leading and Highest Exported Brand Of Heat Reflective Cool Roof Paint:
EXCEL CoolCoat – The Best high SRI Heat Reflective Cool Roof Paint is a water based Acrylic / PUD, high solids. EXCEL CoolCoat contains first of its kind revolutionary TRIPLE ACTION TECHNOLOGY – Reflection + nano insulation + Fibre reinforced Waterproofing for best in class heat protection. Along with it, the adhesion enhancer & Nano UV protectors prevent the coating from UV degradation delivering excellent weather-ability and longer service life. 
EXCEL CoolCoat (Cool Roof Paint) does not allow the roof surface itself to get hot hence no heat enters into the building. Keeping the builds cool upto 20°C during peak summer.  Since no heat enters the building, the interiors remain cooler and comfortable that you will not feel the impact of summer inside.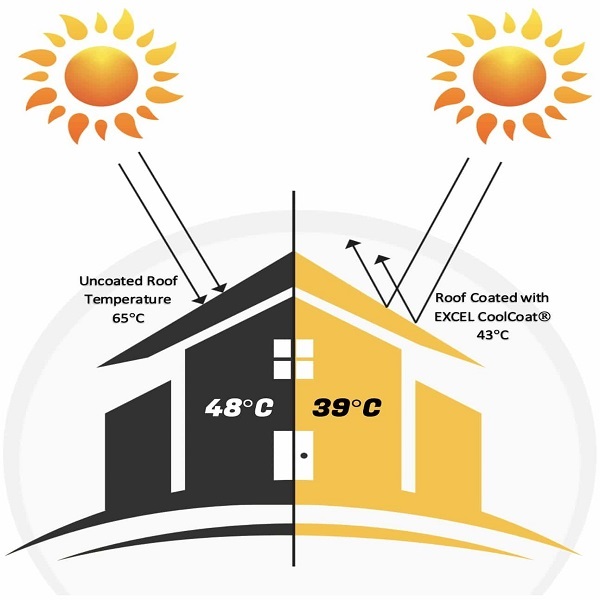 Triple Action Technology:
Excel Cool Coat Solar Heat  Coating Prevents the roof form getting hot even in harsh and dusty conditions. Resulting in cooler interiors even during peak summer.
Excellent Adhesion:
Suitable for application on a wide range of surfaces including Rcc, Tiled roof, all types of industrial roof sheets, storage tanks, etc.
Eco-Friendly & Green Product:
Contains no toxic / solvents, Very high SRI, Low VOC, GRIHA Certified, Green Manufacturing process.
Advanced Nano UV Protection:
Prevents degradation of coating due to UV rays. Resulting in long service life & excellent weather-ability.
Power Saving Upto 30%:
Prevents the building from getting heated up thus resulting in reduced cooling load and saves power up to 30%
Affordable & Low Maintenance:
Low Cost, No Recurring maintenance, Dust Proof, water proof, Fungus & Mold Resistant, Roof Looks new & bright with all these advantages.
Additional information
| | |
| --- | --- |
| Weight | 20 kg |
| Dimensions | 28 × 16 × 10 cm |
Warranty & Support
No Warranty.
No Return & Refund
Service & Support:
Customer Needs To Call Customer Care.
Short Description
Normally reflective coating contains only reflective pigments which works on the basis of reflection. In the current scenario carbon & fine dust settling is very high, which when settles over the coated surface spoils the reflectivity of the coating. Thus the coating fails & desired performance is not achieved. To prevent this failure, It contains high performance Nano-insulating material to efficiently protect heat from entering inside.
It contains high end Nano UV protectors which protects the coating from aging & degrading within few years.
It contains addition enhancers which provides excellent addition property across variety of surfaces.
It contains reinforced microfibers for excellent waterproofing & crack resistance.
It is time tested, field proven & highest exported Heat Reflective Coating from India.
Package Included
Excel Cool Coat Solar Heat Reflective Roof Coating Paint 20 Ltr 1 Unit