Surya Cool Heat Reflective Wall And Roof Coating Compound 5 Kg Bag
₹550.00 Incl. of all taxes (-18%)
Its elastic nature covers hairline cracks
Cool & seal effect.
Heat insulation, energy saving.
Completely washable and recoatable
UV and corrosion resistant.
Per 1Kg-120 Sq.ft.Per Coat Approximately
Note: For Bulk Order please Mail Us.
Surya Cool Heat Reflective Wall And Roof Coating –

From The Manufacturer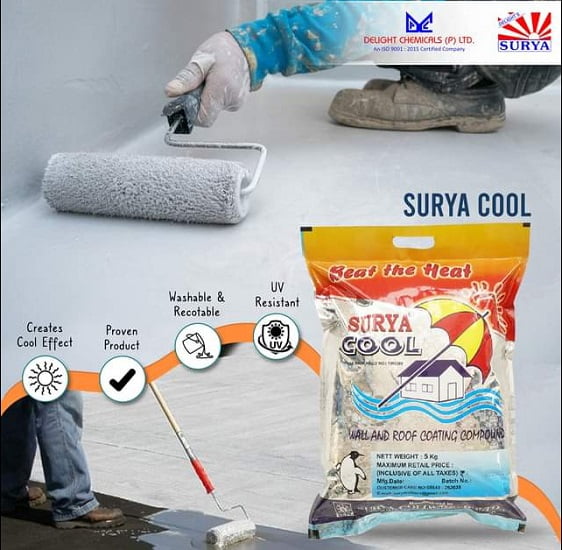 SURYA COOL:
Rain & Shine is a revolutionary water-based coating material with dual properties of cool and seal.
When applied on the roof, 'Rain & Shine' reduces the room temperature to the extent of 7°C to 10°C due to the insulating property of the material and also helps in sealing hairline cracks and arrests the leakages making it the most effective material to be used on water tanks, rooftop and external walls etc.
Why your building needs "Rain & Shine" coating?
The roof is directly exposed to extreme weather conditions like heat and rain. Repeated weather cycles deteriorate the condition of the roof, causing cracks on it.
The direct exposure to heat results in heat gets transferred to the inner rooms making it uncomfortable for occupation.
During monsoons, the water seeps through the roof spoiling the expensive paints of interiors. This may also cause corrosion of the reinforcement steel, which might lead to a weakening of the slab.
In case of improper sloping of terraces, water stagnates on the surface aggravating leakage problems.
It also results in increased electricity costs, if any cooling gadget is fixed. (AC/Cooler etc.)
What are the benefits of "Rain & Shine" coating?
Reduces your indoor air temperature to comfortable levels without increasing energy bills.
Reduces your reliance on air conditioning.
Protects your building surfaces from leakage/seepage, especially during monsoons.
Extends the life of your roof and other surfaces through a convenient, simple – to – apply maintenance coatings.
Effectively Seals cracks/plumbing joints.
Reduces the temperature of water in storage tanks.
Increases the life of slab protecting reinforcement steel.
Surya Cool Heat Reflective Wall & Roof Coating Compound
Additional information
| | |
| --- | --- |
| Weight | 5 kg |
| Dimensions | 23 × 12 × 15 cm |
Warranty & Support
Service & Support:
Customer Needs To Call Customer Care.
Package Included
Surya Cool Heat Reflective Wall & Roof Coating 5 Kgs Bag 1 Unit .
Application & Preparation
Surface preparation:
Surface for treatment must be thoroughly cleaned of all laitance, loose material, oil, grease etc. Mechanical means such a wire brushing, sanding with sandpaper and finally vacuum clean. Clean with water.
Application:
The surface should be cleaned with water and allow it to semi-dry and start application of "Rain & Shine".
Apply two neat coats of "Rain & Shine" by diluting about 500 ml water per 1 kg.
Give a time gap of 3 to 6 hours, between coats, depending upon temperature.
Allow it dry for 48 hours.
Per 1Kg-120 Sq.ft.Per Coat Approximately. It Depends On Painter.