-

18

%
Roll over image to zoom in
Click to open expanded view
Livpure Bolt Plus Copper Water Purifier –

From The Manufacturer
Highest Water Recovery:
Livpure's in-house HR70 Technology helps save up to 20,000L of water every year. Not only does it filter out bacteria & viruses but also removes harmful chemicals like chlorine & fluoride present in the tap water.
Advanced Purification Method:
Livpure's advanced seven-stage purification process cleanses the water so effectively that it is as pure as bottled mineral water or distilled water, even with a TDS level up to 2000 ppm.
In-tank UV Sterilization:
The Bolt + Copper (RO+UV) comes with in-tank UV sterilization technology to keep your water sterilized while the water is stored in the tank. This technology guarantees bacteria removal even after the non-usage of the tank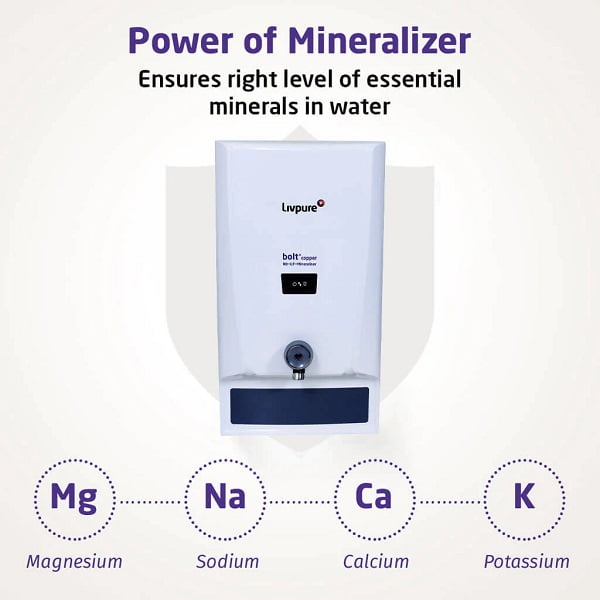 Livpure Bolt (RO+UV) comes with an advanced 7-stage water purification process that provides you with clean and pure drinking water even from a source that gives hard water. The water purifier comes with Super Sediment Filter, PA Filter, Carbon Block Filter, Reverse Osmosis (RO) Membrane, Mineral Cartridge, Copper 29 Cartridge, and In-tank UV Sterilization.
Copper 29 Cartridge:
The Copper water filters add the purity of copper which in turn helps you to boost immunity, improve cardiovascular health and support healthy and glowing skin.
HR70 Technology:
Saves 20,000 water every year
Mineralizer:
Ensures the right amount of essential minerals
7-Stage Purification:
Removes harmful elements from water
Copper 29 Cartridge:
For an added level of purification
Additional information
| | |
| --- | --- |
| Weight | 7.5 kg |
| Dimensions | 35 × 35 × 57 cm |
Warranty & Support
1 Year Manufacturer Warranty
Limited Manufacturer Warranty
Service & Support:
2 Free Preventive Maintenance
Compulsory Sediment Filter Change
Compulsory Carbon Filter Change
Customer Needs To Call Customer Care 18004199399
Short Description
Purification Stages: Super Sediment Filter, Carbon Block Filter, Anti-scalant Cartridge, RO Membrane-HR, Mineraliser, Copper 29 Cartridge, In tank UV Sterilization
No. of Stages: 7
Suitable for TDS levels: Upto 2,000 ppm
Suitable for Hardness levels: Upto 450 mg/L
Purification Capacity: Upto 15 L/Hr
Duty Cycle (Max): Upto 75 L/Day
Display: LED Indications
Body Material: ABS Food Grade Plastic
Mounting: Wall Mount
Water Dispensing Type: Ambient
Storage Tank Capacity: 7 L
Membrane Type: Thin Film Composite
UV Wattage: 0.7 W (in tank UV)
UF Membrane: –
Input Voltage: 140 – 300 V AC /50 Hz
Dimensions (mm): L 295 X W 275 X H 505
Net Weight (kgs): 7.4
Country of Origin – India
Package Included
Livpure Bolt Plus Copper Water Purifier 1 uNIT
Gst Bill , User Manual, Warranty Card