-

20

%
Roll over image to zoom in
Click to open expanded view
V-Guard Zenora RO+UF+MB Water Purifier TDS up to 2000 ppm
₹10,500.00 – ₹11,850.00 Incl. of all taxes (-20%)
7 Stage Purification
Water with TDS up to 2000 ppm
7L Large Storage Tank, LED Indicators
Wall Mount & Table top Installation
Long-Lasting Filters with World-Class RO Membrane
Compare
V-Guard Zenora RO+UF+MB Water Purifier –

From TheManufacturer
Made for Indian Water Conditions:
We understand Indian water conditions are unique, that is why our engineers put in years of research to make sure ZENORA has been perfected for them before it comes to you. Its intelligent design, combining world-class RO Membrane with effective multi-stage pre- and post-treatment, guarantees effective elimination of impurities commonly found in Indian water supply, and long-lasting performance with minimal maintenance hassles.
Multi-Stage Purification:
Designed with utmost precision, Zenora's multi-stage purification process is divided into three stages: Pre-RO Treatment, RO Treatment, and Post- RO Treatment. The first stage protects the sensitive RO Membrane by removing large and fine particles, suspended solids, bad odour, excess chlorine, and similar impurities.  The second stage comprising wide-surface RO Membrane – eliminates TDS (Total Dissolved Solids) and Heavy Metals. The third stage enhances the taste of the RO treated water with a unique calcite mineral balancer and provides an extra layer of protection against micro-organisms assuring of 100% safe and pure water.
Long Lasting Filters:
Our careful composition of each filter ensures that filters complement each other to withstand the harshness of Indian water for much longer periods, thus, delivering sustained optimum performance and minimising the burden of frequent replacements.
World-Class RO Membrane:
Made with the best-in-class technology, Zenora's RO membrane features a wide-surface area for higher productivity and reduced pressures. Backed with a robust pump, which is engineered together in precise balance, this highly optimized RO unit delivers long-lasting performance, effectively reducing TDS and eliminating heavy metals and micro-organisms from water.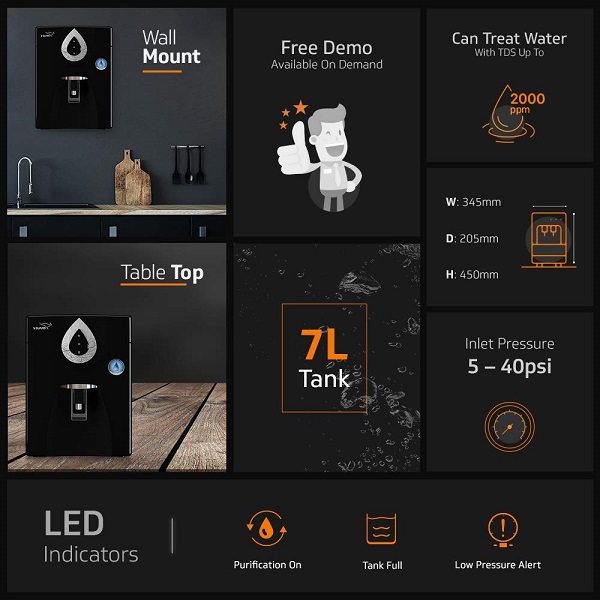 Double Protection with Advanced Hollow Fiber UF Membrane:
The extra layer of safety built through an advanced hollow fiber UF membrane filters out any remaining microbes, which might have sneaked out of earlier stages. Further, it polishes the filtered water to prevent any fine particles from entering the water storage tank.
Relive Natural Taste:
RO treated water is made to pass through a unique mineral balancer comprising the calcite media that neutralizes the acidic nature of the water by balancing its pH level, thus, ensuring healthier water that tastes so good and natural.
LED Indicators:
V-Guard Zenora RO+UF+MB Water Purifier Equipped with 3 LED Indicators – 'Purification On', 'Tank Full' and 'Low Pressure' – to keep you informed about the health of the machine all times, so that there's no delay in accessing pure water at the right time.
Highly Energy-Efficient:
Consumes lesser energy than a tube-light:
Why worry about the electricity consumption when your water purifier consumes less energy than a tubelight! A perfect cost effective solution to access pure water and safeguard you and your loved ones.
Additional information
| | |
| --- | --- |
| Weight | 9 kg |
| Dimensions | 35 × 20 × 45 cm |
| color | Black, White |
Warranty & Support
Limited Manufacturer Warranty.
Warranty: 3 Year V-Guard Company Warranty.
Service & Support:
Customer Needs To Call V-Guard Customer Care.
Toll Free: 1800 103 1300
Toll: 1860 180 3000
Email: waterpurifier@vguard.in
Package Included
V-Guard Zenora RO+UF+MB Water Purifier 1 Unit
User Manual, Warranty Card, Gst Invoice